Dauphin Containers: Mobile Alabama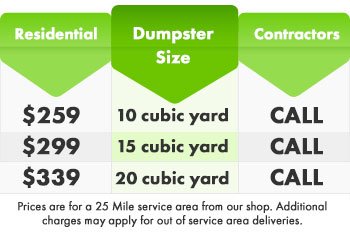 When you are looking for a dumpster rental in Mobile Alabama, Dauphin Containers offers prompt and affordable roll off dumpsters for contractors, homeowners, and businesses. Learn more about what sets us apart and how Dauphin Containers can quickly deliver a dumpster to your location so that you can get to work immediately.
Dumpster Rentals In Mobile Bay Area When You Need It
While we are located in Mobile, we offer our mini roll off dumpster rentals to an even wider area. Our service area is within an approximate 50 mile area of Mobile AL. And regardless of your location, when you request a dumpster rental within our service area, Dauphin Containers will promptly deliver your dumpster, usually by the next day, to the exact site where you want it. Whether your job is in in town or the outlying residential areas, give us a call today at (251) 533-7391 to request a rental dumpster delivery.
Manageable Sized Dumpsters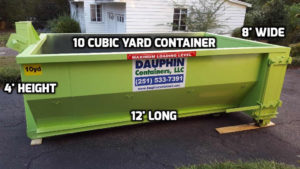 We specialize in 10 yard dumpster rentals because they are suitable for a variety of different needs for small to medium sized jobs. Our dumpsters are quite manageable to deliver and situate exactly where you want them. At about the same size as a minivan, this sized dumpster fits perfectly in a driveway. A 10 cubic yard dumpster is the perfect size for homeowners to use during all types of cleanup and renovation jobs.  Professional contractors find this size suitable for kitchen and bathroom renovations.
The Details Make The Difference
At Dauphin Containers, the details are what really set us apart. It is because of these details that Mobile contractors and homeowners have come to rely on our efficient mini dumpster service in the Mobile Bay area.  Because we professionally maintain all our roll-off dumpsters, our customers never need to apologize to neighbors about an unsightly dumpsters. With Dauphin Containers, your job site will give passers-by the impression that your job is being handled by true professionals, which it is.  Our professional drivers will deliver your rental dumpster to the exact location where you need it. And just as promptly as it is delivered, your dumpster will be removed when ready.
Best Company For Mobile AL Mini Rental Dumpsters
If you are looking for rental dumpsters in the Mobile area and points beyond, call Dauphin Containers today at (251) 533-7391 to request your dumpster, or to learn more about how our roll-off dumpster rentals can best work for your next project.