10 Cubic Yard Roll-Off Dumpster
It's the ideal size for a typical kitchen demo, bathroom rip out, roofing job (it'll hold up to 30 single-layer roofing squares) fencing material, yard cleanup, small kitchen and bath, medium garage/basement clean out, 10′ x 20′ deck, etc.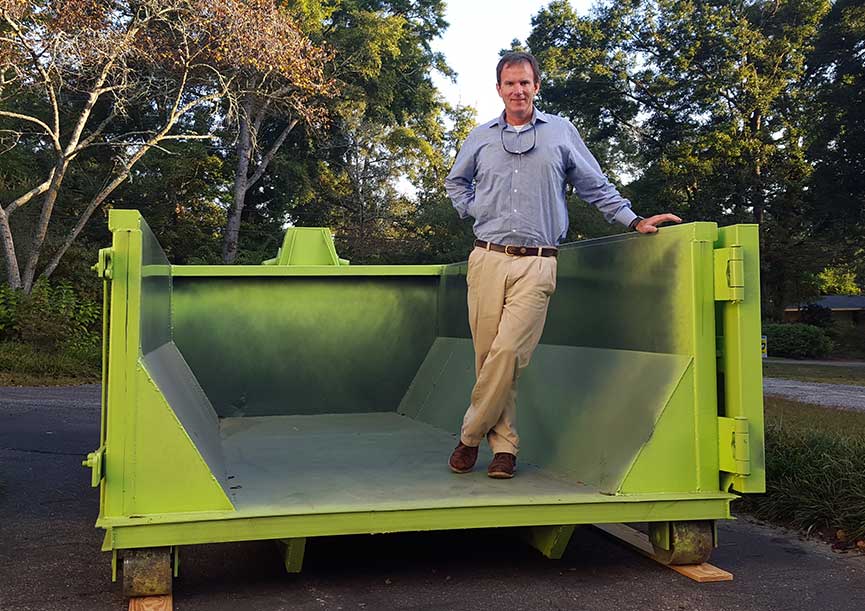 Our 10 cubic yard roll-off dumpster is big enough to hold the equivalent of 4 pick-up truck loads, but small enough to fit in a tight space.  We charge homeowners a flat fee starting at $269.00 for general construction debris.  This includes delivery, pickup, and landfill disposal fee. For an exact quote, please call us, or fill out the "Get A Quote Today" form. Contractors please call for a quote.
10 Cubic Yard Roll-Off Dumpster
$269
/ 7 Day Rental
~ 8′ wide, 4′ tall, and 12′ long.
Holds equivalent to 4 pickup truck loads
7,000 lbs. Load Capacity
Includes Delivery and Pickup within Service Area
Easy Access Gate
Designed to fit in small spaces
Why Dauphin?
The friendly customer service team at Dauphin Containers can help make your junk and garbage hauling as simple as possible. We will deliver your dumpster rental and pick it up once you have it loaded. Call us at (251) 533-7391 if you have any questions or need additional information.  We'll help you in any way we can.
Reviews
"You're the only company who offers 10 cubic yard roll-off dumpsters and places them on boards, so they won't leave marks on the driveway. We like that and the customers like it, too."
Manolis Angelidakis, Eight Mille, AL
"Very prompt service. Plywood put down by the driver to make sure the container did not damage my driveway. Company offers 10 and 15 yard containers. Highly recommended!"
Matt O'Rourke, Mobile, AL