Roll Off Dumpster Rental Daphne Al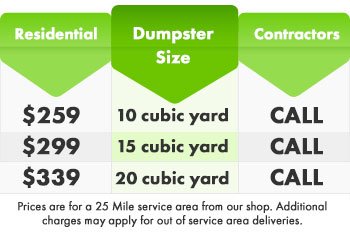 Call Today: 251-533-7391
If you are needing to clean out your garage or your attic, or possibly your need to clean up your yard after a big storm, there are a couple of things that you need to consider before you start your project. You'll have to figure out how you are going to remove all of the debris off of your property, and then you'll have to find a proper place to dispose of it. It might be a good time to contact professional and experienced company that can offer a roll off dumpster rental in Daphne AL which will allow you to forget about the worry and the stress of your clean up job. Dauphin Containers, LLC. has some really nice dumpsters that come in different sizes that are delivered right to your home or job site, and then picked up again when you are ready.
Our Services
Dauphin Containers, LLC. has been providing clean and affordable dumpsters for any job that would benefit from a roll off dumpster rental in Daphne AL and all of the surrounding areas. We are a locally owned and operated company and all of our employees are professional drivers who will place your dumpster in the exact location that you want it in. We also treat your property with the care and respect that it deserves, which is why we always place your dumpster on boards, to ensure that we don't damage your driveway. We are a licensed and fully insured company that also takes our environment very seriously, so we only dispose of waste in designated landfills for the type of debris that we are hauling.
If you are a local contractor working on a job site that requires the removal of debris, renting a roll off dumpster can actually save you valuable time and money. Instead of you or your employees having to keep going back to the landfill to dispose of another load of debris, we will haul your dumpster away for you and deliver another one if you still need it. This is a cost effective approach for waste removal because it keeps you and your employees on the job site until the end of the day. In addition, you will not be using your own fuel, there's no wear and tear on your vehicle and it won't be up to you to unload all of that debris.
Contact Information
When you feel that you or your business could be in need of a roll off dumpster rental in Daphne AL, Dauphin Containers, LLC. would like to invite you to check out our web site and take a look at the dumpster sizes that we have, and learn a little more about our services. At dauphincontainers.com, you can leave your contact information directly on our home page, and briefly describe your next project. When we receive your information, we will get right back with you to see how we may be able to assist you. You can also call us at 251.533.7391 and speak with one of our friendly team members.
Roll Off Dumpster Rental Daphne Al