Mini Roll-Off Dumpsters Ideal for Roofing Contractors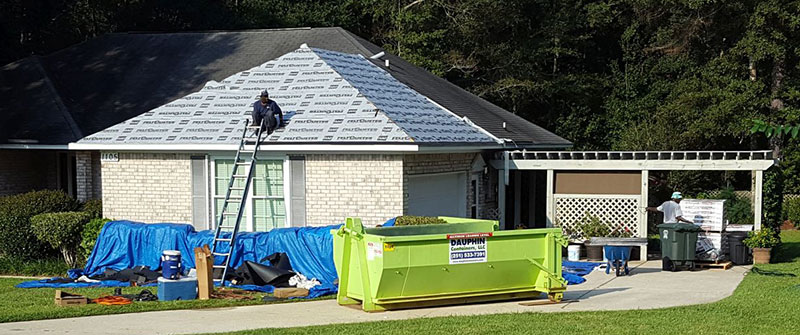 If you're a roofing contractor in Mobile or Baldwin County, you know how much time and money are wasted going to the landfill. You have to haul trailers to your job sites and worry about the wear and tear on your company's equipment and vehicles. Why not let Dauphin Containers handle all your debris removal needs for you? We've helped other roofing contractors, and we'd like the opportunity to work with you.
Unlike the big dumpster rental companies, we offer a 10-cubic-yard mini roll-off container that's popular with roofers. It'll hold up to 30 single-layer squares. And since it's only 8' x 12', about the size of an SUV, it won't take up your customer's whole driveway.
Plus, we use a superior delivery system.  We use a medium duty truck that's easy to maneuver and get into tight spots. We place the dumpsters on boards, so they won't leave markings on your customer's driveway.
Our equipment looks good, so it'll make you look good to your customers. You won't have an oversized dumpster taking up too much space at your customer's home.
I was talking with one or our roofing customers the other day, and he told me, "We like using Dauphin Containers when we have jobs in Baldwin County. We're from Mobile and used to have to haul trailers over there to job sites. Then our guys had to drive out of the way to find a landfill. Now, we hire Dauphin Containers, and this is all handled for us. It's so much easier and hassle-free."
Since we're locally owned and operated here in Mobile, you'll deal with us directly. No 800 numbers or broker fees. We show up when we say we'll be there. No more waiting around, or, worse, not showing up at all. And we offer all this at a cost-effective price.
Call us today at (251) 533-7391 for a quote and to find out more about how we can help you. We look forward to working with you. Please leave any feedback or comments below; we value our customers.