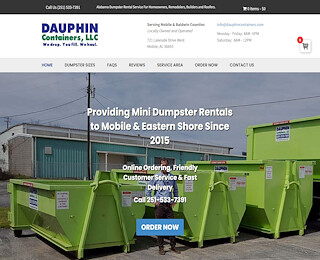 Affordable dumpster rental in Fairhope, AL starts with a phone call to Dauphin Containers. If your upcoming renovation or construction project requires a central location to throw your debris and other materials, contact Dauphin for exceptional options in smaller bin rentals that won't take up your entire driveway. Mini roll off bin rentals from Dauphin Containers are affordable, reliable and effective in keeping your site organized and clean from start to finish.
Dauphin Containers cares about the environment, which is why they recycle as much of your waste as possible to keep it out of the local landfill. All loads that leave construction and renovation sites are covered to eliminate the possibility of blow-off during transit. There are numerous reasons why clients prefer Dauphin Containers over other dumpster rental companies in Fairhope, AL. Why not give them a call at 251-533-7391 to discuss your upcoming project and find out how they can save you time and money?
Renting the right size of bin is crucial to saving money. If you're like a lot of other homeowners whose project is on a budget, cost saving goes hand in hand with smart spending. Why rent an oversized dumpster that's too large for your project when you'll just end up spending more on the unnecessary space than you need to spend? Dauphin Containers rents 10 cubic yard, 15 cubic yard and 20 cubic yard bins designed to better meet the needs of homeowners and small contractors.
Call a specialist from Dauphin Containers to discuss your project and let their expertise guide you to the right size bin. As a general rule of thumb, their 10 cubic yard bin holds the equivalent of 4 pick-up truck loads, the 15 cubic yard bin, the equivalent of 8 pick-up truck loads and the 20 cubic yard bin, the equivalent of 12 pick-up truck loads. If you need assistance determining your waste removal needs, pick up the phone and call Dauphin Containers.
Homeowners love mini bins for their small driveway footprint. Dauphin Containers can deliver your bin to the precise location where you want it, so you'll have a shorter distance to travel to get debris into the bin. Mini bins have an open back design to make loading as easy as possible. Your community will appreciate not having to look at an unsightly oversized dumpster sitting at the end of your driveway while you complete your cleanout or renovation project.
For no-hassle dumpster rental in Fairhope, AL, we highly recommend Dauphin Containers as the first choice in waste and debris removal. Same day delivery is possible if you call early in the day and Dauphin's drivers will pick up your bin the moment your project is complete. Dauphin Containers serves Mobile, Jackson and Baldwin Counties with the most reliable options in waste and junk removal. Call 251-533-7391 now for a free quote or visit the website for answers to frequently asked questions, information on selecting the right size bin, and much more.