Roll Off Dumpster Rental Spanish Fort Al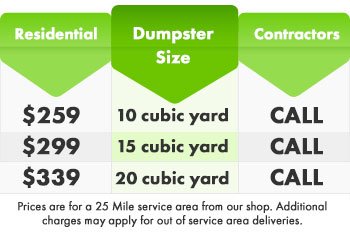 Call Today: 251-533-7391
Check with Dauphin Containers when you need a roll off dumpster rental in Spanish Fork, AL. We have the right size bin for your upcoming project, whether it's a simple bathroom tear out, a kitchen and bath renovation, or a multi-project construction. We offer conveniently-sized dumpster rentals at some of the best prices you'll find in the Spanish Fork region.
What Our Customers Are Saying
Check out our website-exclusive reviews and testimonials or visit your preferred directory to read through some of our customer reviews- we're confident you'll decide we are the right agency for your dumpster rental. We don't focus on our bottom line when serving our clients; rather, we look at our commitment to meeting your needs as our guiding factor when making same-day and immediate dumpster drop-offs, offering professional advice on how to save money on your rental, and making recommendations that can save you on labor costs.
Renting the Right Size Bin is Key
At Dauphin Containers, we are proud to rent space-saving bins that can be maneuvered into unimaginably-small spaces no other container can fit into. When it comes time to start hauling debris to the dumpster, you'll find every step saved is money in your wallet- and you'll save a lot of steps with our minivan-sized bins placed close to your project. Just tell us when and where and we'll deliver your roll off dumpster rental to Spanish Fort, AL.
We Believe in Respecting Your Property
Unlike heavy dumpster rental agencies that tear up driveways and lawns trying to get their dumpsters where their clients want them, we do things a bit differently. Our lightweight delivery trucks make a smaller footprint on your property, so we can place our smaller-sized bins in the exact location you want them- and pick them up again just as easily. Your neighbors will thank you as well since our containers have a greater curb appeal than typical dumpsters.
We Recycle More of Your Debris
Our team at Dauphin Containers understands one of the biggest concerns of our customers is where their debris will spend the next 1,000 years. We work hard to ensure as much of your waste as possible is recycled and repurposed to keep it out of the local landfill. Recycling allows us to maintain a very high rate of success in keeping our commitment to you- and materials unable to be recycled are destined for landfills designated for waste-type.
We Keep You On Budget and On Schedule
Make a call to Dauphin Containers as soon as know about your need for a roll off dumpster rental in Spanish Fork, AL, and we'll be there when and where you need a bin. Discuss materials being hauled off with our staff to make sure we're able to recycle or remove items you're throwing out. We can save you money with a project-specific bin rental designed to better meet your needs compared with a standard dumpster.