Dumpsters Spanish Fort AL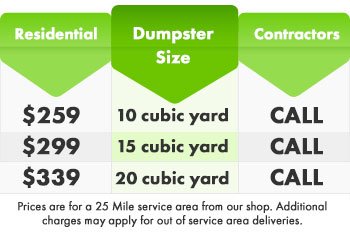 Call Today: 251-533-7391
Locals rent dumpsters in Spanish Fork, AL from Dauphin Containers- and it's easy to see why. Our services are cost-effective, able to help home and business owners save on all types of cleanout projects, from home renovations to construction site debris removal. If you're looking for the perfectly-sized garbage bin that won't become an eyesore to neighbors, give us a call.
No Hidden Fees
One of the biggest complaints we hear at Dauphin Containers about competing dumpster rental agencies is the fact that there are so many additional costs and fees added to the final bill when it comes time to pay. It can be a real challenge to a residential or commercial project to budget for debris removal when the final costs are never fully understood until it comes time to pay. At Dauphin Containers, we offer a clear, flat rate that doesn't change from the time we give you a quote to the time you receive your bill- we just don't believe in hidden fees.
Save on Labor Costs
Our mini dumpsters in Spanish Fort, AL save homeowners significantly. We operate lightweight delivery trucks that maneuver our mini bins into the smallest spaces imaginable- so your cleanup crew will spend less time moving debris from the job site to the dumpster. It may not sound like a huge benefit, but you'll thank us for custom bin placement when the time comes to start hauling debris and other rubbish. Every hour saved on a project is money in your pocket.
Allowed and Non-Allowed Debris
It's important that you read through our FAQ section or speak with one of our bin rental experts to find out what type of materials and items are allowed in the containers we rent. We don't make the rules; however, we are obligated to make sure certain hazardous materials don't end up in our landfill. You can see a complete list of what can and can't go into our bins just by visiting our Frequently Asked Questions section online.
Same Day Bin Placement
We can often deliver dumpsters to Spanish Fork, AL locations on the same day that you call, however, we recommend calling a day before whenever possible. If you learn of an immediate need for a dumpster, give us a call, and we'll do everything possible to get a bin out to you right away to keep your project on schedule. Dauphin Containers is well-known for our commitment to going above and beyond to meet the needs of clients.
We Love Our Local Environment
All hauled-off debris will be carefully inspected for recyclable items. If you're interested in working with a rental agency that is concerned about protecting our beautiful state of Alabama, we are the right choice for a dumpster rental. All loads are carefully covered and dumped at licensed landfills designated for waste-type. We recycle the highest percentage of materials possible to keep waste from ending up in our landfills.