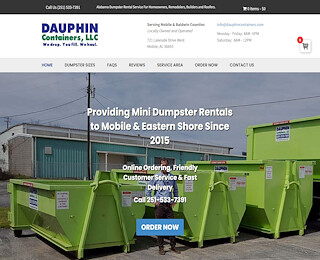 If you are a local contractor who is working on a job site that calls for debris removal, or possibly you are a homeowner who has decided that you are going to tackle that clean up job in your workshop or garage, there is always the problem of debris removal and proper disposal. If you are a business owner, the last thing you want to do is pull a couple of guys off the job site so they can take another load of waste to the landfill. If you are a homeowner you may not have a proper vehicle to load up all of that clutter and then being able to dispose of it properly. Both of these jobs would benefit by inquiring about roll off dumpster rental in Spanish Fort AL. Dauphin Containers, LLC. has several sizes of affordable containers for you to choose from.
About Our Services
Dauphin Containers, LLC. is a locally owned and operated business that specializes in roll off dumpster rental in Spanish Fort AL, and throughout the other surrounding communities, offering nice looking, clean dumpsters for several types of clean up projects. Our services consist of delivering your dumpster at your home or job site, and then picking it up again when your work is completed.  When we deliver your container, it will be placed on top of boards, ensuring that your driveway is not damaged in any way. We usually deliver your dumpster on the next day, but often we can do it on the same day that you call. When we quote you a price for your dumpster, there are never any hidden charges or fees, because your price includes everything.
At Dauphin Containers, LLC. we pride ourselves on doing the right thing when it comes to our work and our responsibilities. This is why we are a licensed and fully insured business, ensuring your peace of mind when we come onto your property. When it comes to our work, we take our environment very seriously, which is why we only use licensed landfills that are dedicated to the type of waste that we are hauling. While we are hauling, all of the cargo is carefully covered with a tarp to ensure that there is no scattering of debris, and nothing is flying out of our trucks that can cause damage to another vehicle.
Our Contact Information
When you decide that your next clean up project would benefit from the convenience of roll off dumpster rental in Spanish Fort AL, Dauphin Containers, LLC. would like to invite you to take a look at our web site and learn a little more about our services. At dauphincontainers.com, you can also find out what types of debris are permitted in our dumpsters and which ones are prohibited. You can also leave your contact information on our home page and a brief description of how we may be able to assist you. You can also call us at 251.533.7391 and speak with one of our professional and courteous team members.