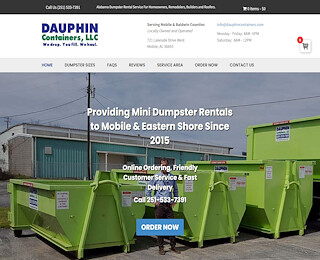 Looking for a dumpster rental in Mobile, AL with options designed to meet your needs? Dauphin Containers is a locally-owned dumpster rental agency catering to homeowners and contractors in Mobile and Baldwin Counties. With smaller sized dumpsters available, called mini-bins, Dauphin can ensure you have the perfectly sized bin for your upcoming project.
Dauphin rents 10, 15 and 20 cubic yard dumpsters, geared toward saving you time, money and space. Large containers can take up your entire driveway and put a real damper on your renovation project, but mini-bins are only about the size of a minivan, so they'll fit in just about any location you have in mind- and mini roll off dumpsters cost less, since you won't be paying for the space in a big container that you don't really need.
Just call Dauphin Containers at 251-533-7391 to speak with a dumpster rental pro in Mobile, AL who can assess your project and recommend the right size. They'll deliver in less than one day in most cases and place your mini bin where it will offer the most benefit to your project. Request a quote when you place your call and discover just how affordable mini dumpster rental in Mobile, AL can be.
Dauphin Containers rents out mini dumpsters by the week, however if you require an extended period of time for your project, just let them know at the time when you schedule delivery and they'll take care of it. Each additional rental day is only $7, up to 5 days, with a $10 a day fee thereafter. You won't find a more affordable dumpster rental that is all inclusive in its price. Your cost includes delivery, pick up, landfill disposal fees sorting for recycling and up to 3 tons of trash, junk or debris.
Dauphin Containers' mini bins can be used to dispose of furniture, household trash and waste, paper, plastics, glass, shingles, construction debris, bath and kitchen tear off materials, remodeling debris, and yard waste. For a complete list, please visit the Dauphin Containers website and check out the FAQ page. You'll note that there are items that are not allowed in the bins due to regulations.
Clients love working with Dauphin Containers because they care about the local environment and do everything possible to keep trash out of the landfill. Whenever possible, items are recycled, and transported loads are covered to avoid blow-off while traveling. Call Dauphin for your next dumpster rental in Mobile, AL and become one more local in the long and growing list of satisfied clients.
For more information, click on the 'Blog' link where you'll find an impressive collection of interesting and informative articles designed to help you make the best decision regarding your upcoming renovation, spring cleaning, roof-tear off, or other projection the horizon. Visit the Dumpster Sizes page to select the best dumpster to meet your needs or call Dauphin Containers to speak with one of their friendly and knowledgeable specialists regarding your dumpster rental.