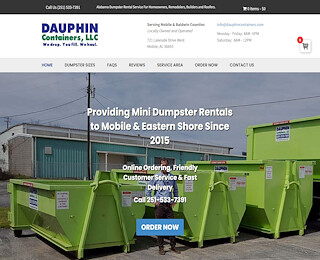 Reliable dumpster rental in Daphne, AL is available through Dauphin Containers. If you need a central location for the disposal of debris and other materials for your upcoming project, we highly recommend the mini bin rentals available from Dauphin Containers. Why rent an oversize dumpster and pay more than you need to when a mini bin can meet your needs more affordably and conveniently?
Mini roll off bins are cost-effective and take up a smaller area of your driveway. Residential rates from Dauphin Containers are only $245 for the 10 cubic yard bin, $285 for the 15 cubic yard bin, and $325 for the 20 cubic yard bin. If you need assistance in determining the right sized bin for your project, feel free to call one of Dauphin's specialists at 251-533-7391. They're always happy to assist clients in saving time and money.
Mini roll off dumpsters offer numerous benefits over full-sized bins aside from being more affordable. If you live within a community that is not apt to appreciate a large, unsightly, smelly dumpster sitting in front of your home, a mini bin is just the thing you want. Clean, odor-free and attractive mini bins from Dauphin Containers are a much more aesthetically pleasing option, and your driveway will accommodate them better as well. Drivers will lay boards under your bin to ensure no driveway damage occurs and there will be no marks left behind after they pick it up from your residence.
If you're looking for the most convenient dumpster rental in Daphne, AL, we invite you to check out the Dauphin Containers website to see why locals prefer their smaller dumpsters to other options. Feel free to visit the FAQ page where many of the most commonly asked questions have already been responded to by a pro from Dauphin Containers; questions like:
– Why does Dauphin Containers use mini roll-off dumpsters?, How do I rent a Dauphin Containers roll-off dumpster?, How long can I rent a dumpster?, What's included in the waste removal service?, What is your service area?, What are the suggested uses for the mini dumpsters? And many others as well.
Read through real client testimonials from locals who have called Dauphin Containers for a dumpster rental in Daphne, AL and found them to be every bit as reliable and affordable as they claim to be. You'll be convinced, you've found the right rental company to work with for your upcoming project.
Dauphin Containers rents the most popular sizes of mini bins, including their 10 cubic yard, their 15 cubic yard and their 20 cubic yard roll off bins, all designed to streamline the process of having your construction, renovation or cleanout debris hauled off in the most affordable and convenient manner. For questions not answered on the website, we invite you to call a specialist from Dauphin Containers at 251-533-7391, or send your questions in the form of an email to info@dauphincontainers.com.